Commercial Cleaning
Are you looking for reliable commercial cleaning services in Orange County, CA? 360 Detail is here to help! Our dedicated team of experienced professionals provides top-notch cleaning solutions for businesses of all types and sizes. We work with our clients to create customized cleaning plans to meet their needs and budget. Whether you need daily, weekly, monthly, or a one-time cleaning services, we have you covered!
We use the latest cleaning techniques and equipment to ensure every surface, corner, and crevice of your business is thoroughly cleaned and sanitized. With our commitment to excellence and customer satisfaction, you can trust 360 Detail to keep your commercial space looking its best! Contact us today to learn more about our commercial cleaning services, or use our "free consultation form" to talk to a specialist.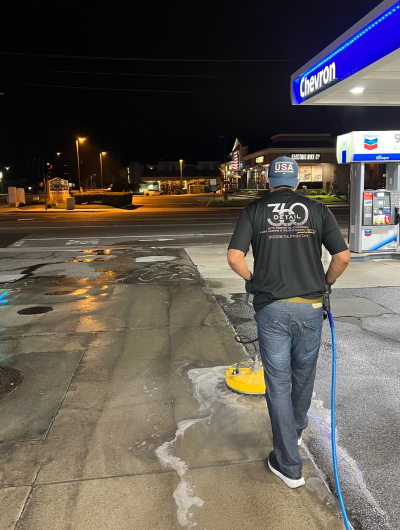 Floor Cleaning
Our comprehensive commercial floor cleaning services include power scrubbing, pressure washing, high-pressure steam cleaning, basic cleaning, and specialized treatments for removing adhesives, chemicals, grease, and paint. We also offer concrete scrubbing and commercial concrete care to ensure your floors are clean and well-maintained.
Routine Janitorial
From dusting and vacuuming to mopping and disinfecting, we use the latest cleaning equipment and techniques to ensure your workplace is clean, hygienic, and safe. Our janitorial cleaning service is available daily, weekly, or monthly, depending on your cleaning needs and schedule. Whether you need a one-time deep cleaning or regular maintenance cleaning, we are here to provide you with the best possible service at an affordable price.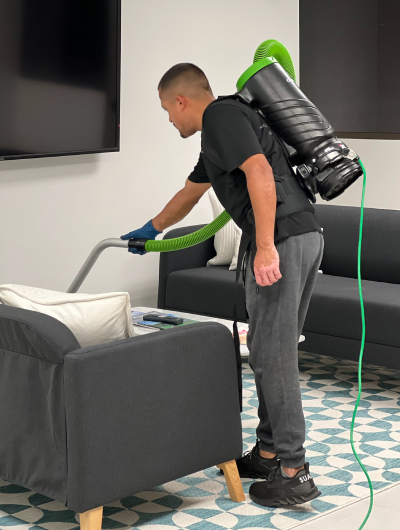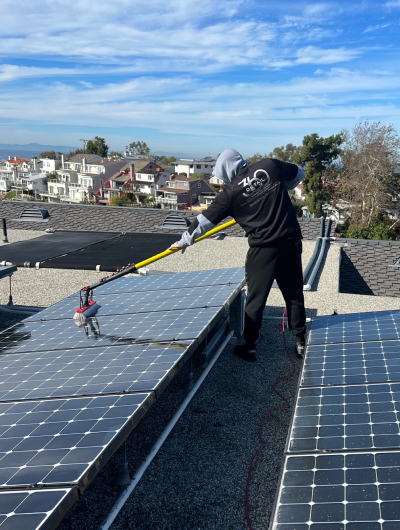 SOLAR PANEL CLEANING
Over time, solar panels will accumulate dirt, dust, and other debris, reducing their energy output and costing you money. Our specialized cleaning equipment can effectively remove all debris, ensuring your solar panels are clean and functioning optimally. Our system uses pure water filtered through a multi-stage filtration system that removes impurities and minerals, leaving behind a streak-free finish.
STEAM CLEANING
With the help of our Fortador steam cleaner, we can harness the power of steam to thoroughly clean and sanitize your floors, carpets, upholstery, and more. With high-pressure steam, we can remove even the most stubborn dirt, grime, and stains without harsh chemicals, making it an eco-friendly and safe option for your business. From restaurants and hotels to hospitals and schools, our steam cleaning service can benefit any commercial space.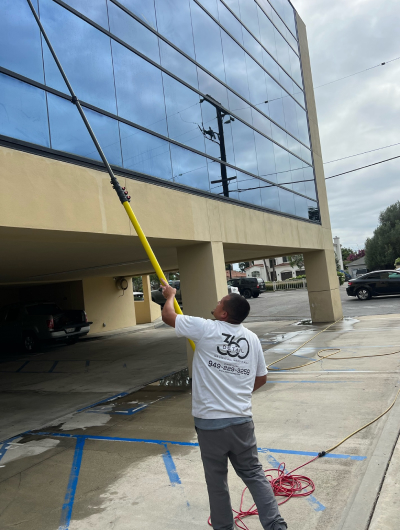 Window Cleaning
Our commercial window cleaning services help improve the appearance and functionality of your building, creating a brighter and more inviting workspace for your employees and customers. Our team uses a Tucker water-fed pole, a system that allows us to clean your windows from the safety of the ground, eliminating the need for ladders or scaffolding and minimizing the risk of accidents or damage. The demonized water we use is treated and removes any impurities, resulting in a crystal-clear finish that lasts longer and resists streaking.
Fleet Vehicle Cleaning
We offer a range of packages and services, including exterior washing, interior detailing, and specialized treatments for engines and exteriors. Our commercial fleet vehicle cleaning service is perfect for businesses of all sizes, from small delivery companies to large transportation fleets. With our reliable and professional service, you can be confident that your vehicles will always look pristine.