Our Story
Hi! We are 360 Detail, a locally owned and operated commercial and residential cleaning and mobile car detailing company based in Southern Orange County, CA.
Our journey began in 2017 as a mobile car detailing company founded by two friends who grew up and went to school together in Orange County. Through our hard work and dedication, we quickly expanded to the commercial and residential cleaning space. As our accounts grew, so did our company. Over the years, we've been fortunate to provide cleaning services to companies such as Chevron and Amazon.
We attribute our success to our commitment to excellence and our passion for providing top-quality cleaning solutions to our clients. Our dedication to delivering exceptional results, and our friendly customer service, have earned us a reputation as a trusted and reliable cleaning company.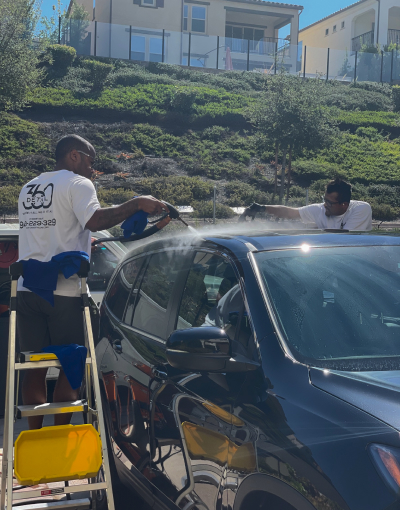 Fortador Steam Cleaner
Fortador is a state-of-the-art cleaning system powered by Lamborghini that utilizes steam to clean and sanitize surfaces. The system generates steam at a high temperature and pressure, which allows it to penetrate deep into surfaces to remove dirt, grime, and other contaminant build-up. The type of build up that can't be removed by standard cleaning methods. Fortador is a versatile system that can clean many surfaces, including floors, carpets, upholstery, stainless steel, and even vehicles-